Recruitment
Recruitment
Come join a triple Newcombe Medalist at the Australian Tennis Awards winning team. Futures Tennis Academy is always searching for the best quality professional coaches. If you are interested in coaching on our team send your C.V. to our address. Please note you must be a Qualified Tennis Australia Developmental Coach or higher [or have the equivalent qualification from the I.T.F. – International Tennis Federation]. We have a pathway for all coaches from TA Junior Developmental coaches to Head Coaches who run their own clubs with Futures administration/marketing staff resources and assistance. If you are highly motivated to want to learn how to become a coach please call our office, or look up the Tennis Australia website, for more information.
Futures Tennis is a full-time tennis academy which has been in operation for over 40 years.
Our team, including international coaches and previously world ranked pro's are dedicated, committed and passionate about providing all pupils with a successful coaching experience.
The Futures Tennis Leadership Team is:
Director: Wes Horskins, Operations Manager: David Wildsmith, Marketing Manager: Jake Zerman and Coach Manager: Tom Paterson.
Importantly, our staff have also been trained to "Play by the Rules " [see attached document for our Child Safety Standards]. Our coaches have working with children checks, first aid training, insurance and regularly update their knowledge to stay accredited.
Director Futures Tennis Academy | Tennis Australia Master Club Professional
Wes Horskins
AWARDS: 2010 Winner TCAV Club Coach of the Year; 2011 Winner Victorian Tennis Awards Coaching Excellence Hot Shots; 2011 Winner Australian Tennis Awards: Hot Shots Coach of the Year; 2012 Winner Australian Tennis Awards: Club Coach of the Year; 2013 Finalist Victorian "All Sports" Awards; 2016 Winner Australian Tennis Awards: Most Outstanding Club/Centre [East Malvern TC]. Wes was an outstanding junior player. His results included twice reaching the semi-finals of the Australian Junior Championships & winning numerous junior tournaments in Melbourne. Overseas he won prestigious World Level 2 tier National Titles such as the Czechoslovakian Junior Championships [Slovakia] & the Swiss National Junior Title [Landquart]. Wes represented Australia in the World Junior Esso Challenge & Victoria in both the Wayne Reid & Linton Cup teams. In 1980 Wes was ranked the number one junior in Victoria & four in Australia for juniors his age group. At just seventeen years of age Wes played State Grade number one [the highest open grade in Victoria] and won six of his seven singles matches. Wes played the Men's ATP circuit for six years, playing in many of the worlds largest tournaments including Grand Slam events such as the main draw of the Australian Open singles and doubles [1982] and the qualifying event of the French & Wimbledon Championships. Wes' highest Australian Singles Ranking was #35, World Singles Ranking of #398 & World Doubles Ranking of #252. Wes also represented Oklahoma State University in the NCAA with a full scholarship before starting his career in tennis coaching at the prestigious Haza Del Algarobbo Tennis Centre in Fuengirola, Spain coaching many of the top Andalucian juniors. Wes eventually settled back into Melbourne coaching & managing at numerous private clubs, private schools and commercial centre [Malvern Tennis Centre] while returning to play Tennis Victoria State Grade number one pennant. During this period he also completed his Diploma of Education. In 2008 he became one of fifteen national Tennis Australia Hot Shots mentors to assist in developing Hot Shots coach education. Wes has also served a period of ten years as a Board Member with Tennis Coaches Association of Victoria [TCAV] assisting in the development of coach related issues, education and being a coach assessor at the training school. He was also elected by his peers to represent all coaches on the National Coaching Advisory Group to Tennis Australia advocating for coaching related issues as the chairperson from 2009-2014. Wes has made a living from either playing, or coaching, tennis for his entire life. This knowledge & over 40 years of experience Wes has now passed onto his coaching academy and his numerous coaches. Wes continues to play tennis representing Australia twice in the over 35 World Team Championships. In 2000 he reached the quarter finals of the over 35 World Singles and Doubles Championships in Amsterdam, Holland. The same year he also won the Australian 35 and over Clay Court Championships. In 2000 Wes was ranked in the top ten players in the world 35's I.T.F. rankings. Wes still plays V.T.A. Pennant Men's Open Doubles winning the flag in 09, 11, 12, 13, 14, 15, 17, 19 & 20. He has coached top 200 WTA players through to raw Hot Shots beginners and simply loves coaching at all levels.
Qualification / Membership: Diploma of Education / Diploma of Business / TCAV member / VECCI member / KLTC member
MANAGEMENT TEAM: OPERATION MANAGER | Tennis Australia Club Coach Professional | EAST MALVERN Head Coach
David Wildsmith
David is a qualified TA Club Coach Professional. He commenced coaching at the age of 16 and has continued coaching for 37 years. He has a deep passion for the game. He joined Futures as our full time Operations Manager Monday to Friday in 2016. His playing experience includes 10 years of playing Victoria's most elite grade of pennant, State grade, which would place him in the top 100 players in Australia. He has coached beginners through to Nationally ranked players including his own two sons. He is a close friends of Wes' and has been a great addition to our qualified coaching and admin staff. David also has a Bachelor of Business/Marketing Degree at Deakin University.
MANAGEMENT TEAM: COACH MANAGER / Qualified Tennis Australia Head Coach
Thomas Paterson
Tom is a qualified Tennis Australia coach and has coached for over ten years. He likes to remind us that he started his tennis journey with Futures as a snotty three year old! But that he then developed into a top 150 Australian ranked player whilst playing tennis full time for a period. He has played grade one VTA pennant and has participated in tournaments at the ATP level. Tom worked for Futures from 2015-16 but left to try other industries only to realise his heart is still in tennis coaching. Tom brings a high level of enthusiasm to his coaching along with an engaging nature and dry sense of humour. Tom refers to himself as the "Top Dog" as he claims to have been here longer than anyone else! Tom's tennis journey continued when he was accepted to attend Box Hill Tennis School in his secondary years, then to other prestigious tennis academies, only to come full circle back to Futures. As a coach Tom brings not just his infectious attitude but also a keen eye for detail at analysing and correcting technical flaws. We are all extremely happy and proud to have Tom back at Futures.
MANAGEMENT TEAM: MARKETING MANAGER | Tennis Australia Junior Developmental Coach | Head Re-stringer
Jake Zerman
Jake is a qualified TA Junior Developmental Coach. He is our coach prodigy! He has played all his life from 3 years old and comes from a family of well known tennis players. His Aunty, Kerryn Pratt and Grand Mother, Maureen Pratt, both played in Grand Slam tournaments around the world. Jake played for Wesley College's firsts as number 1 in his team. He is great with kids, organises our entire Friday Night Leagues and is our Head Re-stringer. Jake is also our Marketing Manager and IT expert promoting FTA's website, all social media and printed material including our term newsletter. Lastly, at peak times, Jake also backs up David with admin duties.
STUDYING BACHELOR OF PSYCHOLOGY
Tennis Australia Club Professional Coach | T.C.A.V. Club Coach of the Year 2002 | U.S.P.T.A. Qualified
Robert Peterson
Rob is a qualified TA Club Coach Professional and also a U.S.P.T.A. qualified coach with over 40 years of coaching experience. He has coached at his own clubs in Melbourne and internationally at Port Washington Tennis Academy, USA. In 2002 he won the T.C.A.V. Club Coach of the Year. As a junior player Rob won the Schoolboys Championship of Victoria and as a senior he was a State Grade player. He is a life member of the T.C.A.V. and long time board member. Rob is passionate and extremely enthusiastic teaching the game to all levels and has an abundance of tennis knowledge to pass onto his pupils. He is one of our most sort after coaches.
Qualifications: Diploma of Export - International Banking
High Performance Coach | Tennis Australia Qualified Coach | Tennis Germany Qualified Coach
Ian Fuelscher
Ian's is a qualified TA Club Coach and also a Tennis Germany qualified coach. His full time job is lecturing on the subject of Neuropsychology in the area of movement and motor skill at Deakin University. His passion, though, is the game of tennis! His father was a well known media commentator in Germany who got him into the game at a young age. Ian is heaps of fun with juniors and adults alike and volunteers to be coordinator for the junior teams at East Malvern Tennis Club. If you attend the club you will inevitably bump into Ian working voluntarily around the place. Although German, Ian, is a fair dinkum "Aussie"!
Qualifications: Masters of Psychology / Bachelor Arts Media Communication/Psychology; Lecturing on the subject of Neuropsychology in the area of Movement and Motor Skill.
Tennis India Qualified Coach | Head Coach Ardrie Park TC
Himakesh Sankineni
Himakesh's is a Tennis India Club Coach and Head Coach at Ardrie Park TC. He has been playing tennis since he was 8 years old and, being a fast learner, started playing competition at just 9 years of age. He is an outstanding player and achieved a career high singles ranking of 19 in juniors and 48 in Mens Open Singles in India with its 1.4 billion population! After playing the ATP circuit for two years he decided to move to Australia to pursue a tennis coaching career along with completing a Sports Business Management degree. Himakesh is great with kids and adults alike and is a master technician with his wide range of tennis knowledge. He also is the hitting partner of top India female player, Pranjala Yadlapalli, who last month [Dec 2000] had a win over Daria Gavrilova former top 30 WTA player from Australia.
Currently Studying: Masters of Information Systems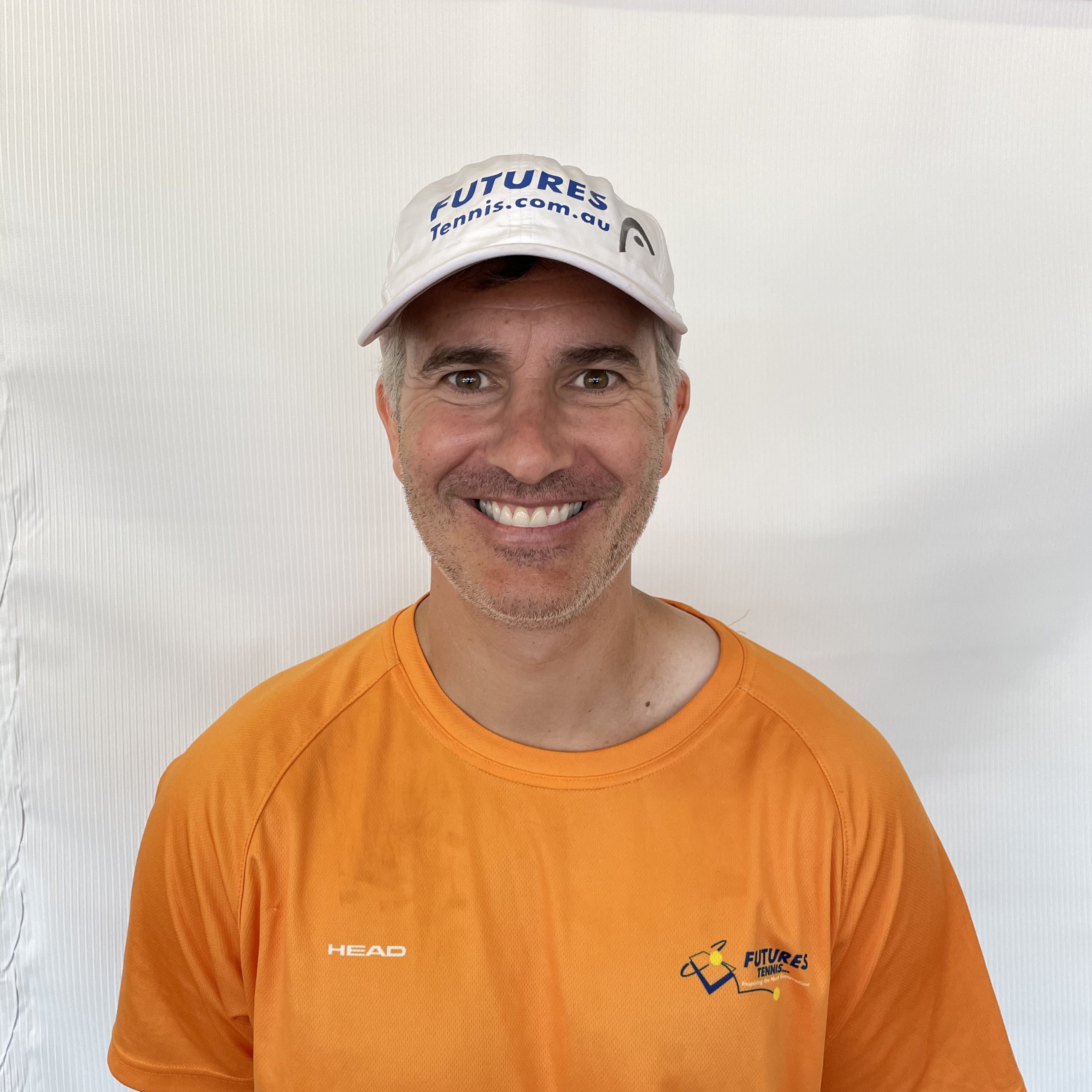 Tennis Australia Club Coach Professional
Rob Mescher
Rob is a TA Club Coach Professional, but just as importantly, is a much loved and respected person. He was a former Head Coach for Futures for 21 years and has been one of our best coaches among the hundreds that have worked for us. Some years ago he changed professions starting with the Metropolitan Fire Brigade but still coaches casually. He has coached all levels and ages. He is a grade 1 TV pennant player and former Club Champion at East Malvern Tennis Club. Together with David Philpott they form a "dynamic duo".
Tennis Australia Club Coach Professional
David Philpott
David is a TA Club Coach Professional. He was our Head Coach Manager for 24 years and is the longest serving coach for Futures. He has coached all ages and standards. A few years ago, unfortunately, David started a new profession with the Metropolitan Fire Brigade and now coaches casually. David is an exceptional technical and tactical coach and has a great rapport with all his pupils. He also played grade 1 TV pennant with Rob and together formed a "dynamic duo" as FTA Head Coaches.
Qualified Argentinian Tennis Coach
Rodolfo Hernades
Rodolfo is a Tennis Argentina Club Coach. He started playing when he commenced coaching at 7 years of age. Although Argentinian Rodolfo speaks excellent English and has lived in Australia for two year. He decided to come to here to further his number one passion of coaching tennis. Rodolfo has an extremely infectious attitude and loves teaching the game that he has devoted most of his life to. Rodolfo started coaching in Argentina at his local club at the tender age of sixteen. He has a wonderful rapport with all pupils but, particularly, with our younger Launch Pad to Green Ball players.
Tennis Australia Coach Member
Damon Bernard
Damon is a TA coach member. He is a another former student of Futures Tennis. He was an A grade junior at East Malvern Tennis Club and now plays grade 4 V.T.A. pennant. He is committed to teaching kids the basics and has a fantastic and fun personally with all our players. We have many recommendations from pupils for Damon because of his down to earth and laid back personality along with his placid nature. Damion has been coaching for four years for Futures with all levels.
Qualification: Studying Bachelor of Science
Tennis Australia Coach Member
Mitch Duckett
Mitch is a TA Coach member. He is another former student of Futures Tennis having had coaching with us for ten years. As a kid Mitch lived in the US for a number of years [and still has the accent to prove it] and returned pursuing his tennis with Futures. He was an A grade junior [along with Damon] and now plays VTA grade 4 pennant for East Malvern Tennis Club. Mitch has coached for six years and has great technical knowledge of the game for all standards and ages. He is one of the most well liked and respected coaches at Futures.
Qualification: Studying Bachelor of Science
Currently completing: Tennis Australia Junior Developmental Coach
Declan Sullivan
Declan started his tennis coaching with Futures and is now completing the TA Junior Developmental Coaching course. As many of our juniors his playing pathway started in the Friday Night comp. He then went onto be a A grade junior playing for East Malvern TC, then played in the St Kevin's First Open School Tennis team and is currently playing grade 5 VTA pennant. He has much experience dealing with kids of all ages being a tutor and having been in many Leadership programs as an "OAP" in Year 1 1 & "Officer" in Year 12 and he attended the Lord Somers "Big Camp" Leadership Program in 2020. Declan, as a person, is clever [ATAR score of 96.95], dedicated, conscientious and has a caring nature with his pupils. He is also the Dux of his class at the TA Junior Developmental coaching course. Needless to say Declan is one of our rising stars!
Studying: Arts, Politics, Philosophy, Economic [PPE] at Monash University
Currently completing: Tennis Australia Junior Developmental Coach
Sam Dinneen
Sam is also currently completing his TA Junior Developmental coaching course. Sam is an excellent player having played grade 2 VTA pennant and has played tennis all his life. He is another excellent up and coming coach.
Studying Tertiary Education
Currently completing: Tennis Australia Junior Developmental Coach
Marcel Meltzer
Marcel also started his tennis being coached at Ardrie park Tennis Club with Futures. He showed excellent promise and started playing comp for the club also achieving A grade level. He has joined our team and is currently completing the TA Junior Developmental Coaching course. Marcel has a warm and engaging attitude with all his pupils and is particularly good with the younger Hot Shot kids.
Studying Tertiary Education
Coach
Christina Cardillo
Christina has coached tennis for numerous years at Murrumbeena Tennis Club and has played all her life. She is a Mum with two kids but wants to get back into coaching which she loves. Christina is great with all the younger kids with her strengths being both her class management and rapport. She is a wonderful female role model.
Qualifications: Business management
Tennis Australia Junior Developmental Coach | FTA Accounts & Payroll Manager
Lucette Horskins
Lucette is a qualified TA Junior Development coach. She is also the Head Coach at Solway Primary School. Her main role ,though, is acting as the Accounts Manager for Futures Tennis. She is a keen tennis player listing her greatest on court achievement as winning the Kooyong Singles Title in her level in 2019. Lucette has a Diploma of Hospitality & Management, but, her greatest skill is being a professionally trained soprano singer! You will often hear Lucy [before you see her!] enthusiastically talking to parents and assisting the Hot Shots players at our Friday Hot Shots competition. She is also Wes' wife of 15 years with three young tennis playing kids.
Qualifications: Diploma of Hospitality Management